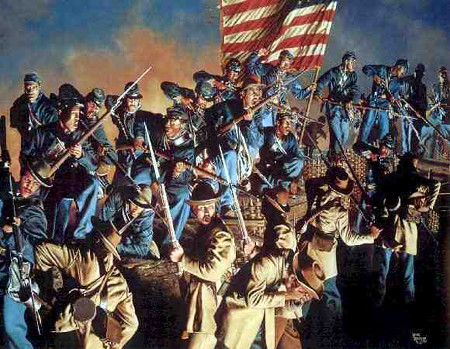 Hymns of the Republic by S. C. Gwynne cites an editorial on May 1, 1864 in the Chicago Tribune titled "Read and Blush" which criticized the wide disparity in pay between black and white soldiers.
This editorial is useful for two reasons. First, it reports the pay rates then in effect. Second it reveals the racism built into society at the time.
The monthly pay rates in April 1864, with another year remaining in the war:
| | | |
| --- | --- | --- |
| | white | black |
| rank | soldiers | soldiers |
| Private | 13 | 7 |
| Corporal | 13 | 7 |
| Sergeant | 17 | 7 |
| First Sergeant | 20 | 7 |
In addition, the book says black soldiers did not receive a bounty of $100 for enlisting.
Neither did families of slain black soldiers receive federal pensions.
The pay rates were not equalized until August 1864.  Book says that only happened after "spirited" debate in the Congress. I will guess that means there were heated arguments whether black soldiers ought to be paid the same as whites.  Book outlines the reasons in society for a pay disparity. I won't mention them.
Furthermore, it took until April 1865 for most black soldiers to collect the back pay to catch up the differential.
One more comment of interest to me from the book –
Consider the economic damages to the south by the summer of 1864.  Without citation or explanation the book identifies the losses as:
67% of southern wealth
40% of livestock
50% of farm machinery
By end of the year, the tally of those factors would increase substantially, courtesy of General Sherman.
That doesn't even start to count damage to farm land, farm houses, rail rolling stock, or railroad track.